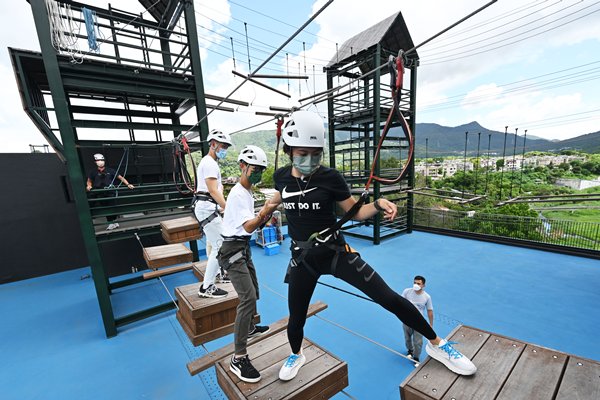 Are you afraid of heights? Do you have the courage to walk on wooden planks hanging sky-high? The Hong Kong Award for Young People Jockey Club Duke of Edinburgh Training Camp allows you to push your limits. There is a two-level ropes course located at the training camp, with the highest point hovering an adrenalin-pumping 7m above ground and the other 3m high. It is a thrilling activity to build up team spirit and courage.
If you want to finish the ropes course with your teammates smoothly, listen to their tips.
"Participants should encourage each other from time to time and lend a helping hand when needed," said Education University student Cyrus Leung who has climbed the high ropes course twice.
The Hong Kong Award for Young People Division Head (Youth Development) Rax Tsang believes that climbing the ropes course for four people not only tests the courage and physical fitness of participants, but also gives a lesson to be learnt.
"We need to consider each teammate's situation, be tolerant of each other and understand the strengths and weaknesses of each teammate."
Mr Tsang explained that when one climbs the high ropes course for four people, everyone needs to take into account the abilities of all participants.
"Even if one of the participants is very capable and physically fit, they cannot finish the course alone. Because if one of the other three participants is scared, their body will shake. When someone is trembling, the entire team will be affected. It will be even tougher to finish the ropes course."
Adventure activities teach meaningful lessons and boost team spirt and positive thinking. Chief Executive Carrie Lam highlighted promoting outdoor adventure training activities in the 2020 Policy Address to further support the healthy development of young people.
Under the Youth Development Fund, a new thematic funding scheme has been launched to provide systematic, quality and sizeable local outdoor adventure training activities for young people.
Family outing
If parents join in adventure training activities with their children, it will also help to boost exchanges between them.
The Hong Kong Award for Young People launched the Jockey Club Camily Project, which is designed to improve family communication and appreciation through various themed hobbies including skills, physical recreation and expeditions. It also provides activities for families such as family adventure, augmented reality sports activities and handicraft workshops.
Children's self-esteem and independence will be enhanced through the activities, while parents will better understand their children's personalities, abilities and interests to strengthen family bonds.
Mr Tsang hopes the scheme can enhance family harmony.
"Participants can feel that everyone can get along well with each other. It is also a good chance for parents to understand their children's strengths and plan for their future development."
Meaningful experiences
The Hong Kong Award for Young People Acting Officer (Youth Development/Education & Service) Taffy Chiu helps arrange activities for participating families of the Camily Project.
Among them is a handicraft workshop which allows families to learn indigo dyeing and design their own patterned cloth bags.
"Learning indigo dyeing allows parents to appreciate their children's creativity and performance from different angles," he said.
A mother who joined the handicraft workshop said the activity is meaningful. "I thought the indigo dyeing was complicated at first, but it turns out that kids can do it too."
Families participating in the Camily Project will have the opportunity to have a taste of fun with floor curling and augmented reality dodgeball.
Parents can team up with their children to defeat their opponents and strengthen a family connection.
"The playing method of floor curling is similar to curling on ice. Team members need to communicate on how to hit their competitor's curling stone and how to manipulate their own curling stone, helping it to slide to the desired position," Mr Chiu noted.
A parent was surprised by their son after playing the game. "Even if the angle is tricky, my son can also knock the opponent's curling stone out-of-play and slide our own stone to the house."
The Camily Project, a three-year scheme funded by the Jockey Club Charities Trust, is suitable for families with children aged six to 18. The scheme started in January this year which allows 200 families to participate in the first phase. Applications for the second phase will start at the end of August. For details, please refer to the Hong Kong Award for Young People's website and its Facebook page.