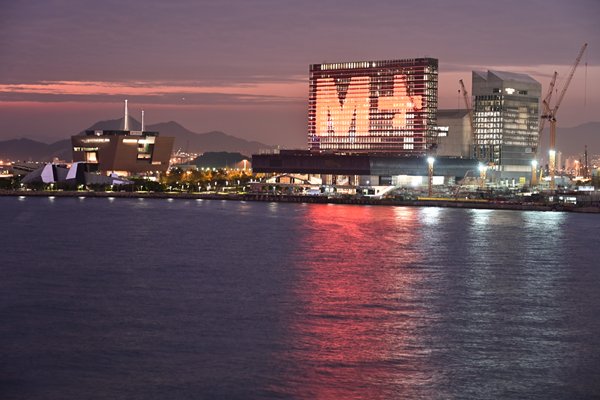 Museums are the catalyst for creativity and learning. The M+ museum, open to public on November 12, transcends the scope of collecting, preserving and showcasing art, and is set to wow its visitors with stunning architectural features.
This new architectural wonder located in the West Kowloon Cultural District marks the first global museum of contemporary visual culture in Asia.
It showcases nearly 8,000 collections of 20th and 21st Century visual culture within an Asian context that encompass visual art, design and architecture as well as moving images.
Upon entering M+, visitors will be led through an unforgettable architectural journey derived from a locally-inspired design and layout.
The iconic landmark consists of 18 floors that cover a total area of 65,000 sq m filled with Instagrammable spots.
From obstacles to opportunities
Its most distinctive feature is the Found Space located on Basement Level 2 where the Mass Transit Railway Airport Express and Tung Chung Line tunnels lie beneath.
Back in 2012 when the West Kowloon Cultural District Authority announced details of the design competition for M+, participating architects admitted to having a hard time harmonising architecture with the environment when it came to dealing with the tunnels.
But the Swiss architecture team Herzog & de Meuron turned this obstacle into an opportunity by carving out a perfect space for displaying dynamic and rotating art installations. They did so, according to M+ Museum Building Management Head William Ng, by meticulously excavating around the railway tunnels and ended up winning the M+ design contest.
"They actually fully utilised the different alignment of the MTR railways. This interesting alignment created a diagonal line to this square-like podium level of this museum building. When we rotate different artwork, you have different ideas for how you can view artwork within the Found Space."
Inclusive design
The Learning Hub and Grand Stair connecting the ground floor and the second floor are equally charming.
Learning is at the heart of M+. Visitors can easily find inspiration via a host of artistic workshops and seminars on offer at the Learning Hub.
They can also participate in lectures or screenings in front of the Victoria Harbour at Grand Stair that accommodates up to 450 people.
To add to its appeal, the museum is adorned with the glow of lovely lamps that resemble the red lanterns seen at local markets.
The faux bamboo design and bamboo furniture seen throughout the gallery were inspired by the city's scaffolding.
Immersive experience
M+ features 33 galleries, three cinemas, two museum shops and restaurants that complement one another to immerse visitors in visual culture.
Before you leave, behold the breathtaking view on the Roof Garden where museum-goers can use it as a place of reflection to allow the marvellous art experience to sink in.
Remember to take the time to check out the ceramic tiles, which were specially made in Italy, on the tower's facade. Mr Ng said depending on the time of day, viewers are in for a real visual treat.
"When the sun rises, there is an orange sunbeam and the reflection of light is different. It is more of a dark green colour. As time reaches midday when the light is brighter, it varies from dark green to a goldish light colour."
At night, people can bask in colourful moving images displayed on the giant LED screen of the museum's sea-facing facade.
M+ is set to open on November 12. While opening hours are from 10am to 6pm from Tuesday to Sunday, visitors can also enjoy the museum until 10pm on Fridays.
For those who want to explore further the different aspects of the building, be sure not to miss Strasbourg-based artist Vincent Broquaire's imaginative animation series which will be screened at Grand Stair from November 12 to 21.