Turning Disability Into Creativity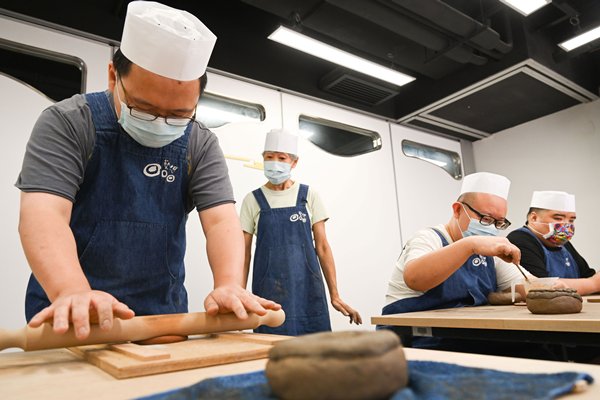 A group of artists with disabilities is proving that creativity transcends all boundaries.
With the support of the Social Welfare Department's Arts Development Fund for Persons with Disabilities, these artists are able to explore their potential and develop careers in performing, visual or creative arts.
St James' Creation launched the Clay for Tomorrow scheme for ceramists with intellectual disabilities and autism spectrum disorder. It provides them with opportunities to learn from local ceramic artists and helps nurture their talent by organising exhibitions to showcase their artwork.
Imaginative inspiration
Siu Yu-hang has autism spectrum disorder and is taking part in the Clay for Tomorrow scheme. He has been making ceramics for more than 12 years.
Every week he undergoes four to eight hours of training with instructors to further develop his skills.
Mr Siu said he enjoys making ceramics as it makes him feel relaxed and he is able express himself more freely through his art.
Clay for Tomorrow ceramic instructor Rosanna Li described him as possessing a unique creative style and being detail-oriented with the potential to be an independent artist.
"Siu Yu-hang has the ability and skills for pottery-making. I hope that through my encouragement, he is able to strengthen his artistic development," she added.
Community connection
St James' Creation Arts Development Officer Gabriel So noted that the theme of the course is bread and baking, and that they are discussing with bakeries the possibility of displaying some of the ceramic works to share the pottery-making process as well as the artists' creative achievements.
"With the support of the Arts Development Fund for Persons with Disabilities, we can launch a more structured, in-depth and longer-term scheme to attract the participation of professional ceramic artists who can provide training and guidance for disabled people who have great artistic potential."
Clay for Tomorrow is a three-year scheme that provides training for ceramists and organises exhibitions to promote their artwork and strengthen their connection with the community.
"The exhibition not only showcases the ceramic works but also helps the public better understand the disabled and lets the artists express their feelings and communicate through the medium of pottery," Mr So explained.
Exhilarating exercise
Another creative pursuit that is beneficial to people with disabilities is dance.
Olivia Chung is partially paralysed. However, being in a wheelchair has not prevented her from enjoying her passion and inspiring others.
"I like wheelchair dancing as my confidence grows when I am on stage. I am able to surprise audiences. Wheelchair dancing is liberating for me and the audience can enjoy seeing how happy I am dancing on stage."
Ms Chung's passion for dance was ignited when she was young. That passion led her to become the Hong Kong Rehabilitation Power Chinese Orchestra's principal Chinese wheelchair dancer.
Fellow Chinese wheelchair dancer with the orchestra Ng Keung admitted that initially, dance did not seem like an option for him.
"When I was injured, I felt that dancing was something beyond my reach, something that I could never do. That is until I discovered I can still dance using a wheelchair. I am no different to able-bodied people. The wheelchair is just an extension of my feet."
Dancing in a wheelchair comes with its own set of challenges, Mr Ng pointed out.
"If some of the moves require me to twist or lean forward, I may fall down. The custom-built wheelchair fits my body so I do not encounter this problem."
The orchestra receives funding from the arts fund so it can hire Chinese wheelchair dance instructors and obtain custom-built wheelchairs for its dancers.
Orchestra Head Wendy Hui said the custom-built wheelchairs are made to measure according to dancers' disabilities to contour their bodies, adding that they are different to regular wheelchairs as they are built for exercise and dancing, making it safer for dancers to make turns and dance.
Discovering potential
The Government has earmarked $250 million to the Arts Development Fund for Persons with Disabilities to provide funding support to arts programmes and activities.
There are two tiers of projects under the fund.
Grants for tier one projects cover the promotion of elementary and/or continuing arts programmes, training classes or courses for the disabled to give them opportunities to participate in the arts and unleash their potential.
Tier two project grants aim to provide funding support for organising large-scale, impactful and sustainable projects which focus on developing the potential of talented people with disabilities for their career development. Such projects require a longer time of continuous training to develop the talent of the disabled with a potential in arts.
As of August, 59 projects have obtained financial support from the arts fund.