Robots Take The Fuss Out Of Desilting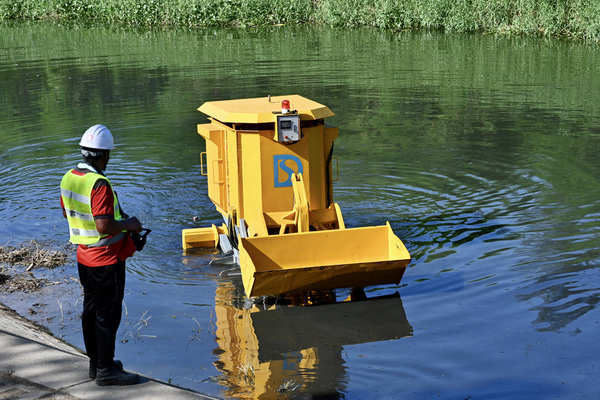 To improve the flexibility and efficiency of desilting works and reduce safety risks to workers entering drainage facilities and rivers, the Drainage Services Department has introduced remote-controlled desilting robots to assist in its work.
Drainage Services Department Mainland North Division Engineer Feng Xue explained that the latest robot in the "Innobros" series was developed specially for desilting work in rivers.
Equipped with a wide bucket, the robot can remove both silt and rubbish, improving the efficiency of desilting operations.

"Generally, the 'Innobros' can collect up to 18 tonnes of silt per day," he said. "As the operation of robots is not affected by tides, the arrangement of desilting works can be more flexible, which shortens the works period and improves efficiency."
Innovative technology
Besides carrying out works in rivers and drainage channels, the department also needs to perform desilting inside box culverts.
Accordingly, it introduced "Aquabot" for the first time in February. Capable of working in confined spaces, "Aquabot" is the smallest desilting robot used by the department so far. 
When deployed, the robot is first placed into a box culvert by lifting equipment. With the help of sonic survey technology, an operator is then able to manoeuvre it from a control room at ground level. When silt is located, the robot's desilting work begins.
Under normal circumstances, the robot can collect about 10 tonnes of silt in a day.
Overcoming constraints
Drainage Services Department Mainland South Division Engineer Joey Ho said that the traditional desilting method requires workers to enter box culverts themselves, in order to install and operate desilting equipment, and that as such they are exposed to certain safety risks.
She added: "The traditional method also requires interception of water flow in the culverts to allow workers to work in an environment without water flowing through, which means the work is limited mostly to dry seasons.
"The remote-controlled desilting robots overcome the restrictions associated with the traditional desilting method. They eliminate the need for water flow interception, allowing desilting works to be carried out throughout the year, including the rainy season, thereby increasing the flexibility and efficiency of the desilting works and improving the occupational safety of workers."
Flood protection
The department also continues to expand its application of new technology in flood control management. 
It has installed over 250 remote devices, such as rain gauges and water level sensors, at different locations, to collect real-time information on rainfall, water levels, and tidal levels, around-the-clock.
These data are transmitted to the department's hydrological information system, allowing conditions at drainage facilities throughout the network to be monitored on mobile phones and computers instantaneously.
Such data can help the department deploy early implementation of appropriate preventive and contingency measures.
A further 60 devices will be installed throughout the network by the end of this year.