Lab Plays Key Role In Virus Fight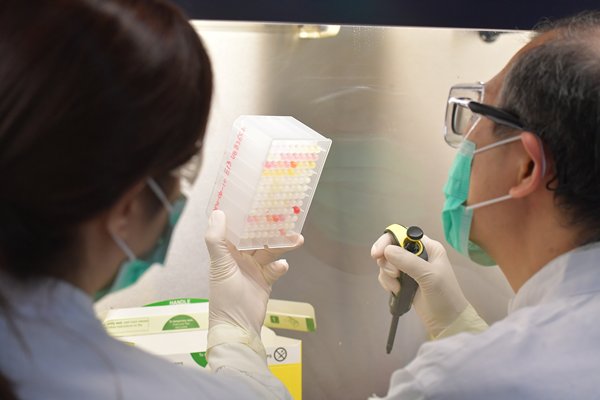 Since the first confirmed case of COVID-19 in Hong Kong, the Enhanced Laboratory Surveillance Programme, which provides free COVID-19 testing, has been extended from public hospitals, private clinics and airport arrivals to bus drivers to minimise the risk of community transmission.
Deep throat saliva specimens are sent to the Public Health Laboratory Services Branch in Shek Kip Mei every day for testing.
Medical Technologist Anita Ng recalled that the first confirmed case was discovered on her birthday, making it an exciting but hectic day for her.
"We diagnosed it at around 5pm. Everyone was in a panic. We had to ask for another sample and do a lot of re-testing to confirm it."
Round-the-clock testing
During the peak of the epidemic in Hong Kong, the number of tests carried out could reach as many as 4,000 per day. The laboratory also deals with urgent testing requests such as for the 1,800 passengers on the World Dream Cruise in February and the Luk Chuen House residents who were evacuated from the Sha Tin housing block earlier this month.
"We had to try our very best to finish everything within a day. We ate for 10 minutes and then continued to test," Ms Ng added.
The tests are not limited to human specimens. Multiple worshippers at a Buddhist temple in North Point were infected in February, so the Department of Health sent staff to collect environmental specimens from common areas as well as objects such as scriptures and kneeling blankets.
"The number of viruses in environmental specimens is usually low. We have to test at least 10 times per specimen to ensure it is a true negative," explained Ms Ng.
Self-developed technology
According to Public Health Laboratory Services Branch Scientific Officer Peter Cheng, nucleic acid testing is the most accurate testing method to identify COVID-19 to date.
Upon arrival at the laboratory, the specimens undergo pre-analytical treatment. The technologists then extract the nucleic acid from the specimens and add master mix reagents for polymerase chain reaction (PCR) amplification. Fluorescent signals can be detected during the process for the presence of the virus.
Mr Cheng designed the primers and probes required for the test. The technology was approved by the Hong Kong Laboratory Accreditation Scheme.
"The sensitivity is almost 100%. Even if there are only 200 copies of the virus per millilitre they can be detected. The specificity is also up to 100%. That means we do not have any problem of false positives or false negatives," he said.
As of June 16, more than 300,000 samples had been tested by the Public Health Laboratory Services Branch and the Hospital Authority.
To advance the identification of COVID-19 infected patients, the Enhanced Laboratory Surveillance Programme was further extended to cover bus drivers last week.