Interns Expand Career Horizons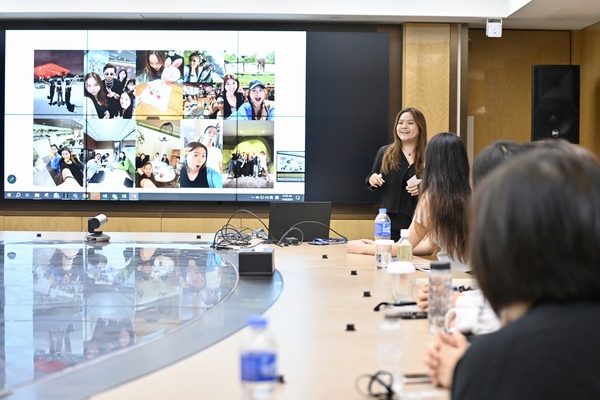 The Scheme on Corporate Summer Internship on the Mainland & Overseas, organised by the Home & Youth Affairs Bureau, has resumed after the COVID-19 pandemic in collaboration with 24 large corporates each offering internship placements lasting no less than six weeks, with 234 students having successfully completed their internships.
As one of the participating companies, the MTR Corporation (MTRC) provided a total of 10 internship placements across various disciplines ranging from operations, engineering, customer service to surveying in Beijing, Hangzhou, Shenzhen and London, UK.
Placement preparation
Ten students from various universities recently gathered at the MTRC headquarters for an orientation session before setting off on internships. They had the opportunity to visit the MTRC's depot for an insight into the rail firm's daily operations.
Chloe Lam, an urban planning masters programme student at the University of Hong Kong, was assigned to the Customer Experience team of the Elizabeth line in London, which is operated by a wholly-owned MTRC subsidiary.
Sharing her experience, Miss Lam revealed that she was given frontline responsibilities at the rail station which involved communicating with individuals of varying ages, such as passengers and work colleagues. She also got the chance to visit Transport for London which runs the UK capital's public transport network, where she learnt about the country's collaboration with Hong Kong-funded enterprises.
Practical experience
The internship not only gave Miss Lam the opportunity to observe London's integration of conservation and railway development, but also real-world business experience.
"The internship showed me what the business world can be like, which is so different to what I learnt in books or the academic field.
"When I truly was in the MTR, I could understand how the business operates, how railway services can be delivered and the difficulties in between. For example, I remember when I visited a station, the station managers explained every single bit of detail to me, so this was something that I could not learn until I truly was there."
She added that her trip to London helped her realise how quickly she could adapt to a new environment and culture as well as train herself to think on her feet and be a proactive learner.
Invaluable investment
The MTRC has been one of the participating companies since the scheme's inception in 2018.
"We have been partnering with the Government to provide opportunities and exposure to young people such that they gain a better understanding of our country and the rest of the world," MTRC Human Resources Director Margaret Cheng explained.
"We believe this is an invaluable investment in the community as well as in our youth. We think this kind of arrangement will give young people the exposure, the experience that is unique to their growing up and development. And they will in turn - whether or not they work for the MTR, contribute back to society, which I think ultimately, we will all benefit from."
Another participating company is New World Development. A group of 19 students took up internships at its various business locations in the Mainland, including Shenzhen, Guangzhou, Shanghai and Wuhan.
Students were assigned to different business units based on their individual strengths and areas of study, such as market research, digital marketing, human resources and customer relationship management.
One of them was Hester Hayes Chan, who is studying Management with Marketing at the University of Bath in the UK. Her responsibilities included promotional work at a shopping mall in Shanghai.
Personal growth
Having completed her internship, Miss Chan credits the scheme with helping to develop her personal capabilities.
"Six weeks allowed me to explore China. Also, I got to go to different cities like Suzhou or Hangzhou. It was really fun and I really got to know about how they live.
"It gave me benefits in terms of allowing me to know what kind of things I am into or what kind of things I am not into. I think it was a really great insight for my career. It let me know that I am okay with marketing events."
New World Development Company Human Resources Senior Director Jenny Chiu supplemented that the scheme has the potential to offer work experience to students, thereby facilitating their future career development.
"The scheme also gives the interns first-hand exposure to the workplace culture and environment of Mainland China, thereby helping them develop broader perspectives and resilience. Working with different departments will allow the interns to engage with professionals from across the industry and begin to build their professional network to prepare for a successful career."
Both the MTRC and New World Development have expressed their commitment to continuing to foster the growth and development of young individuals in Hong Kong.