CE Attends Boao Conference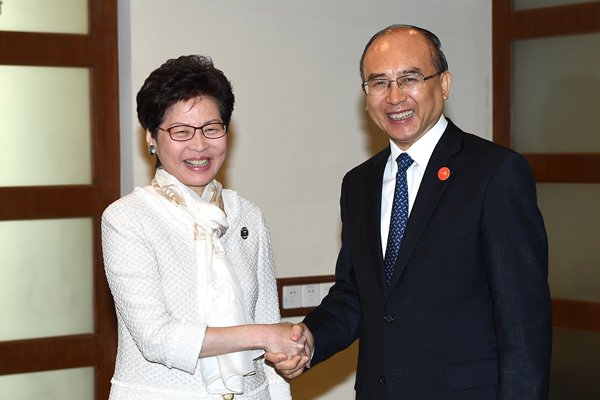 Chief Executive Carrie Lam today attended the Boao Forum for Asia Annual Conference 2018 in Hainan and met officials from Hebei and Hainan.
To start the day, Mrs Lam met Hebei Governor Xu Qin and thanked him for promoting co-operation between Hong Kong and Shenzhen during his tenure as the Secretary of the CPC Shenzhen Municipal Committee and as Mayor of the Shenzhen Municipal Government.
Noting the Beijing-Tianjin-Hebei Cooperative Development and the Guangdong-Hong Kong-Macao Bay Area are national growth strategies, she expressed the hope she and Mr Xu will work hard together on these issues.
She also looked forward to increasing Hong Kong's investment in Hebei, such as in innovation and technology, advanced manufacturing and agriculture.
She said Hong Kong has rich experience in city management and rapid growth in arts and culture, and she looks forward to enhancing exchanges with Hebei in these aspects.
Mrs Lam later attended the CEO Roundtable of the Boao conference and listened to success stories and experience sharing on the Belt & Road Initiative by political and business leaders from various countries.
She also discussed how financial institutions can play an important role in the Belt & Road Initiative while guarding against excessive risks, how enterprises should cope with inadequate market information in countries along the Belt & Road, and how to encourage private capital to participate in the Belt & Road Initiative.
Mrs Lam then spoke at the discussion session on the Guangdong-Hong Kong-Macao Bay Area.
She said the bay area's success will hinge on whether its innovation can provide new impetus for the quality development of the bay area, and whether it can serve as an important link between China and other parts of Asia as well as the rest of the world.
Whether in innovation or connectivity, Hong Kong can make vital contributions to the bay area, she said, adding that following the forthcoming promulgation of the bay area's development plan the Hong Kong, Guangdong and Macau governments will hold forums and jointly organise overseas promotional events to enhance understanding of the bay area.
Mrs Lam later met Secretary of the CPC Hainan Provincial Committee Liu Cigui and Hainan Governor Shen Xiaoming.
She congratulated the province and the Hainan Special Economic Zone on their 30th anniversary of establishment and the successful hosting of the Boao conference.
She said Hong Kong has enjoyed close relations with Hainan and the Hong Kong Hainan Commercial Association has a history of more than 100 years.
She hopes the two places enhance co-operation in various areas, including promoting multi-destination itineraries together.
She also encouraged Hainan enterprises to make use of Hong Kong's mature financial platform and quality professional services to go global, exploring the international market together.
Mrs Lam later joined a dinner event featuring a dialogue between International Monetary Fund Managing Director Christine Lagarde and Alibaba Group Chairman Jack Ma.
She then met with Hong Kong students volunteering at the conference.
Mrs Lam will attend the conference's opening ceremony tomorrow.